Ancient Egypt (Paperback)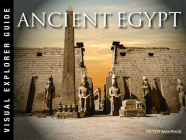 $14.95
This book is hard-to-find or out of print and we may not be able to get it. Email for more details.
Description
---
Become a visual explorer through a stunning collection of images that celebrate the beauty and fascination of ancient Egypt. From the Neolithic cave paintings in Wadi Sura--created when the region was still savannah grassland, not desert--to the Valley of the Kings, the funerary mask of Tutankhamun, and the rock-cut temples at Abu Simbel, Ancient Egypt takes a colorful look at the surviving wonders of Egyptian antiquity. Their legendary beauty and scale draw millions of visitors to the country's monuments each year. Arranged by region, this photographic guide explores ancient settlements on the banks of the Nile, vast temple complexes at Karnak and Luxor, and, of course, the pyramids and the Sphinx. Alongside the world-famous sites are also fascinating, lesser-known places, such as the Step Pyramid of Djoser and the Statue of Khaefre. Expertly written text reveals how ancient Egypt developed its trade links and became such a powerful, wealthy force across North Africa and the eastern Mediterranean.
About the Author
---
Peter Mavrikis has written and edited books for over 25 years. He enjoys writing about history, science, and nature. He was also the Editorial Director for Barron's Educational Series and Kaplan, where he ran the foreign language and study guide divisions.