Rowan the Red Squirrel (Picture Kelpies) (Paperback)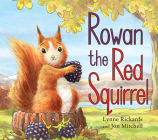 $11.95

This book is in stock at our warehouse and will be at the Raven within 3-5 Business Days, once they've shipped it to us.
Description
---
Deep in the woods, in a crooked old tree,
Lived two little squirrels, with Mum, who made three.
Hazel was brave -- a flash and a flurry,
While Rowan was shy, and tended to worry.
Rowan the little red squirrel and his sister Hazel are leaving their dray on their own for the very first time. Hazel is eager to explore and, before they know it, they set off on an exciting adventure. But Rowan is worried -- about the strange noises in the forest around them and their mother's warning to look out for the fox
Written in Lynne Rickards' signature rhyme, this charming tale of two very different siblings finding their own strengths features dynamic watercolor illustrations of Scottish wildlife and two adorable wee squirrels
From the creators of the best-selling puffin adventure Skye the Puffling, Rowan the Red Squirrel brings the beauty of the Scottish Highlands and its animal inhabitants charmingly to life.
About the Author
---
Lynne Rickards was born in Canada and now lives in Scotland with her husband and two children. She grew up reading Dr Seuss books and as a result she loves writing in rhyme. Her picture book Pink! was nominated for a Royal Mail Book Award. She is the author of the Puffin Adventures Picture Kelpies: Lewis Clowns Around, Harris the Hero and Skye the Puffling. Jon Mitchell graduated with a BA Hons in Graphic Design from Wolverhampton Polytechnic. He worked as an architectural illustrator before joing Ragdoll Productions, where he illustrated TV characters such as the Teletubbies and Rosie and Jim. Jon has been working as a freelance illustrator for the last fifteen years and has illustrated numerous children's books including Flat Stanley. He lives in Evesham, Worcestershire, England.