Moomin and the Martians (Paperback)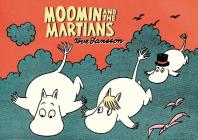 $9.95

This book is in stock at our warehouse and will be at the Raven within 3-5 Business Days, once they've shipped it to us.
Description
---
A flying saucer crash-lands in Moominvalley and high jinks ensue

Another classic Moomin story reworked in full color, with a kid-proof but kid-friendly size, price, and format.
Moominmamma wakes up one morning and finds that a flying saucer has crash-landed in her cabbage patch. There's a strange machine dangling out of it that seems like it could be used to fix their broken radio, but when Moominpappa starts fiddling with it, he turns himself and Moomin invisible! Each knob on the machine causes strange and unlikely events to transpire, until the Martian finally recovers possession of its property. Tove Jansson's Moomin and the Martians is a lighthearted romp that reaffirms the importance of family.
About the Author
---
Tove Jansson (1914–2001) was born in Helsinki and spent much of her life in Finland. She is the author of the Moomin books, including Comet in Moominland and Finn Family Moomintroll. Born into an artistic family—her father was a sculptor and her mother was a graphic designer and illustrator—Jansson studied at the University College of Arts, Crafts and Design in Stockholm, the Finnish Academy of Fine Arts, and L'École des Beaux-Arts in Paris. In addition to her Moomin books, she also wrote several novels, drew comic strips and worked as a painter and illustrator. In 1966, she was awarded the Hans Christian Andersen Medal for her body of work. Jansson had a studio in Helsinki but spent most of her time at her home on a small island called Klovharu.
Praise For…
---
"Here is where Jansson's weird but true world begins; where fear, loneliness and insecurity are banished by love and the force of imagination." —Time
"[Jansson's] work soars with lightness and speed, and her drawings only echo her writing: delicate but precise, observant yet suggestive." —Los Angeles Times Book Review