Parable of the Sower & Parable of the Talents Boxed Set (Boxed Set)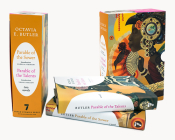 $50.00

This book is in stock at our warehouse and will be at the Raven within 3-5 Business Days, once they've shipped it to us.
Description
---
A beautiful boxed set brings together the great sci-fi writer's two award-winning Parable books

The perfect gift for fans of Octavia Butler, this boxed set pairs the bestselling Nebula-prize nominee, Parable of the Sower and Parable of the Talents, which together tell the near-future odyssey of Lauren Olamina, a "hyperempathic" young woman who is twice as feeling in a world that has become doubly dehumanized.

In Sower, the place is California, where small walled communities protect from hordes of desperate scavengers and roaming bands of people addicts. Lauren sets off on foot along the dangerous coastal highways, moving north into the unknown. The book has an introduction by feminist, journalist, activist, and author Gloria Steinem.

Parable of the Talents celebrates the classic Butlerian themes of alienation and transcendence, violence and spirituality, slavery and freedom, separation and community, to astonishing effect, in the shockingly familiar, broken world of 2032. It is told in the voice of Lauren Olamina's daughter––from whom she has been separated for most of the girl's life--with sections in the form of Lauren's journal. Against a background of a war-torn continent, and with a far-right religious crusader in the office of the U.S. presidency, this is a book about a society whose very fabric has been torn asunder, and where the basic physical and emotional needs of people seem almost impossible to meet. Talents is introduced by singer, musician, composer, producer, and curator Toshi Reagon, who created an opera based on the Parable books.
About the Author
---
A writer who darkly imagined the future we have destined for ourselves in book after book, and also one who has shown us the way toward improving on that dismal fate, Octavia E. Butler (1947-2006) is recognized among the bravest and smartest of contemporary fiction writers. A 1995 MacArthur Award winner, Butler transcended the science fiction category even as she was awarded that community's top prizes, the Nebula and Hugo Awards. She reached readers of all ages, all races, and all religious and sexual persuasions. For years the only African-American woman writing science fiction, Butler has encouraged many others to follow in her path.
Praise For…
---
"Gripping ... poignant ... succeeds on multiple levels." —The New York Times Book Review

"Literate ... thoughtful. And a real gut-wrencher." —Washington Post Book World

"A powerful story of hope and faith in the midst of urban violence and decay ... Excellent science fiction and a parable of modern society." —Denver Post

"A prophetic odyssey." —Essence

"Simple, direct, and deeply felt." —Library Journal

"Artfully conceived and elegantly written." —Cleveland Plain Dealer

"There isn't a page in this vivid and frightening story that fails to grip the reader." —San Jose Mercury News