This Morning Sam Went to Mars: A book about paying attention (Hardcover)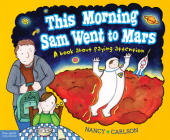 $14.99

This book is in stock at our warehouse and will be at the Raven within 3-5 Business Days, once they've shipped it to us.
Description
---
Eight-year-old Sam is always daydreaming about exploring space and the deepest seas, which is awesome—except when he's supposed to be focusing on schoolwork or stuff at home. It seems like all he hears is, "Focus, Sam!" and "Pay attention!" The doctor says Sam is lucky: He has a very powerful brain! But he does need some help focusing. She gives Sam and his dad lots of strategies to try, like staying organized, eating better food, and asking for help when he needs it. Sam's favorite strategy? Make time for imagination! A note to adults gives extra tips for helping kids with attention struggles.
About the Author
---
Nancy Carlson is an accomplished children's book author and illustrator who has published more than sixty books. A lifelong Minnesotan,
Nancy graduated from the Minneapolis College of Art and Design with a major in printmaking. She believes that life should be fun for everyone, but especially for children. This optimistic message permeates her picture books and provides a positive counterpoint to much of what children are influenced by in today's society.
Her characters convey positive messages and gently remind children what is right. Nancy is also a guest author and illustrator at over 150 school classrooms each year and has touched the lives of thousands of children across the country.
She lives in Minneapolis.
Praise For…
---
"After losing himself in a Mars exploration daydream at breakfast, Sam misses the school bus again. In class, distracted by an imagined deep-sea dive, he runs out of time on a spelling test, misses the last six words, and ends up feeling dumb . . . Without labeling Sam or his problem, the sympathetic story offers useful advice for children who may identify with him."
— Booklist

"A delightful new book that can help you see through your child's eyes, help your child increase self-awareness, and allow you both to build effective strategies for focusing attention."
— MomEnough.com