Sir Gawain and the Green Knight (Paperback)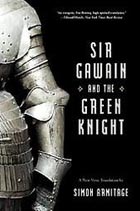 $14.95
This book is in stock at our warehouse and will be at the Raven within 3-5 Business Days, once they've shipped it to us.
Description
---
"Compulsively readable. ... Simon Armitage has given us an energetic, free-flowing, high-spirited version."—Edward Hirsch, New York Times Book Review
One of the earliest great stories of English literature after
?Beowulf
?,
?Sir Gawain
? is the strange tale of a green knight on a green horse, who rudely interrupts King Arthur's Round Table festivities one Yuletide, challenging the knights to a wager. Simon Armitrage, one of Britain's leading poets, has produced an inventive and groundbreaking translation that "[helps] liberate
?Gawain
?from academia" (
?Sunday Telegraph
?).
About the Author
---
Simon Armitage is Professor of Poetry at the University of Leeds and from 2015 to 2019 served as the Oxford Professor of Poetry. He has published ten collections of poetry and is the author of four stage plays, over a dozen television films, a libretto, two novels, and three memoirs. His poetry has won numerous awards, including a Gregory Award, a Forward Prize, a Lannan Literary Award, and the Queen's Gold Medal for Poetry. In 2019 he was appointed Poet Laureate of the United Kingdom.
Praise For…
---
Drives the force of the old poem through the green Armitrage fuse. Highly charged work.
— Seamus Heany, Nobel Prize-winning translator of Beowulf

Simon Armitrage's luscious version of ?Sir Gawain and the Green Knight? continues the tradition of great poet-translators such as Edward FitzGerald, Arthur Waley, and Seamus Heaney. Like them, he has taken an artifact from a remote era and made it his own, while simultaneously restoring it to itself.

— John Ashbery

Brilliantly orchestrated.... Armitrage has produced a brilliantly well-tuned modern score for one of the finest surviving examples of Middle English poetry.
— Poetry Review

[Armitrage's] version inventively recreates the original's gnarled, hypnotic muscle, its vivid tableaux and landscapes, its weird, unsettling drama.
— Mark Ford - Financial Times

A free and wonderfully offbeat version of this unusual masterpiece... fresh and startling, as though it had been written yesterday; it is rough-knuckled and yet it sings.... From start to finish, Mr. Armitrage has clearly had great fun; each of his words has been tasted with gusto.
— Eric Ormsby - New York Sun

Full of make-believe and festivity, this wonderful narrative poem possesses a Mozartean lightness and wit. Luckily, several modern versions, particularly those by W.S. Merwin and Simon Armitrage, deftly replicate much of the feel and rhythm of the Middle English original.
— Michael Dirda - Wall Street Journal

I enjoyed it greatly for its kick and music; its high spirits, its many memorable passages. I enjoyed it because, like the Gawain poet, Armitrage is some storyteller.
— Kevin Crossley-Holland - The Guardian

Armitrage makes it utterly, even compulsively readable, and as fresh as it must have been in 1400.
— Brian Morton - Sunday Herald